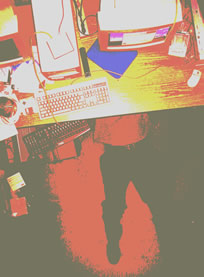 JÜRGEN HENN

I work for a research lab at Duke University in Durham, North Carolina. Some say I have joined the Dark (blue) Side since I am a graduate
of the University of North Carolina - the home of the true Carolina Blue.
In April 2002 I was hired by the Center for Developmental Epidemiology at the Duke University School of Medicine to manage the computing infrastructure at the lab. That means I make sure that the servers are available, the network is up, and all the workstations are humming along.

On January 25, 2002, I was laid off by my previous employer, BOPS, Inc.in the last round of layoffs before the remaining 25 employees turned off the lights at BOPS' Chapel Hill offices in April 2002. During my five years at BOPS, I managed the technical documentation and the various web sites for BOPS.
Two former IBM engineers founded the company in January 1997. They hired me to polish their PowerPoint® presentations for some potential investors in California. In February 1997, I was one of the first 12 employees of Hot Chips and SALSAs. Later they renamed the company to BOPS, Inc.
Want to know more? Here's my resume.